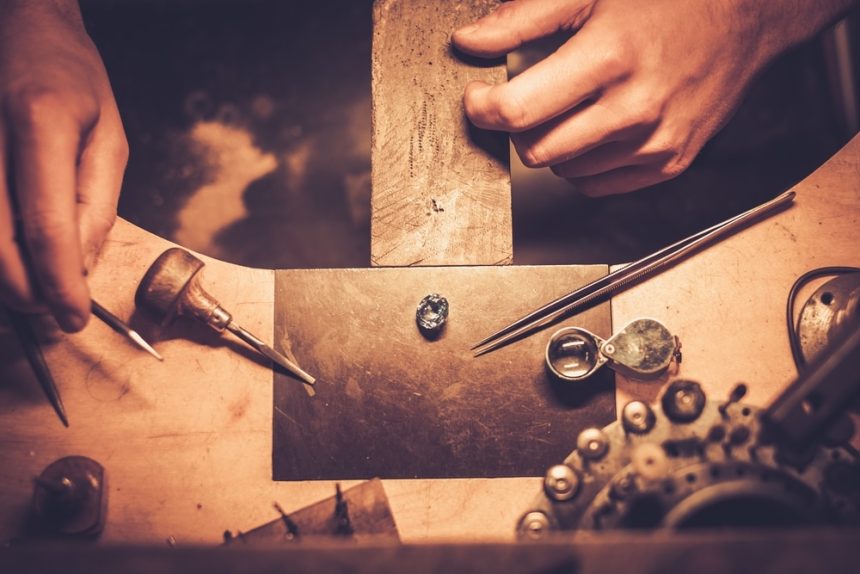 ---
We're living through one of the most turbulent periods the jewelry industry has ever experienced. From online retail to 3D printing of jewelry, this sector is being affected by a number of disruptive forces. Customers are also increasingly interested in sustainability and the ethics behind the items they purchase.
Brands are increasingly having to answer for their practices – and change is coming from within as jewelers seek to clean up their own act. Mining of precious metals such as gold and silver is responsible for a great deal of environmental damage, from high levels of arsenic and lead emissions to soil erosion and the creation of sinkholes.
Humans also bear the cost of mining precious metals and stones: their discovery often leads to death and displacement of local populations, and their extraction often funds brutal conflict. Amnesty International estimates that 3.7 million people have died in civil wars fueled by "blood diamonds."
But it isn't only high-value and precious jewelry that carries a heavy ethical and ecological burden. The modern trend for "fast fashion" jewelry also comes with a footprint. Cheap jewelry with a short lifespan is shipped around the world, it's often made in factories with unsavory labor practices and its manufacture can involve the use of pollutant substances such as dyes and plastics.
The industry also has questions to answer about its packaging, with high use of non-recyclable materials.
The industry responds
Responding to increasing consumer concern, a new wave of eco and ethical jewelry designers are starting to carve out a niche in the industry, often offering fresh designs that more traditional brands aren't matching.
These include small brands such as Eckris, a Swedish brand at the cheaper end of the market, Bario Neal, and the more edgy labels Pamela Love and Selin Kent. Many of these brands use recycled precious metals and gemstones that are either antique or conflict-free.
There are also new trends in jewelry design that reflect the heightened interest in sustainable and ethical practices.
For example, sapphires have recently surged in popularity as these are often seen as a more ethical choice than diamonds, and pewter is being used as a more sustainable material than silver. Soko uses both up-cycled horn (a by-product of the food industry) and brass (over 90% of which is recycled) in their designs. Recycled and up-cycled materials are being used in creative or quirky ways.
Old vinyl records, coffee grounds, even old skateboards are being used to create designer jewelry.
Many jewelry makers are now aiming for greater control and visibility over the manufacturing and sourcing processes, in order to reduce any negative impacts from their activities. Brilliant Earth harnesses the supply chain to deliver ethically sourced gemstones and recycled gold, platinum, and palladium. The brand also offers lab-grown diamonds and works with communities using "Fair Trade" style practices to source items such as pearls.
Whilst some designers accept the limitations of working ethically, finding creativity within these confines, larger brands such as Brilliant Earth are able to find more solutions to give customers greater choice. Soko uses technology to control the supply chain and ensure a better deal for their artisan jewelers. The brand uses a mobile-enabled "virtual factory" to manufacture its pieces, and claims its 2100 artisan jewelers retain at least 25% revenue, compared to 2-3% industry standard.
Jewelers are also responding to increasing consumer interest in living a vegan lifestyle. Bead and Reel offer animal product-free jewelry, including items such as Japanese glass imitation pearl and vegan leather stud earrings. The jewelry brand also aims to respond to growing sensitivity to gender identity issues by offering items that are not targeted at particular genders.
A changing customer
Major changes are afoot in the jewelry industry, and retailers can't afford to ignore them. The typical customer is now much more likely to be a woman buying for herself compared to in the past, and customers are increasingly interested in expressing their values and personality through the items they buy. Interest in sustainable practices has gone mainstream, and there's a good level of awareness about concerns specific to this industry.
For some reason, consumers seem more likely to take an interest in the sourcing of their jewels than they will in their clothing. Perhaps helped by high-profile campaigning work by National Geographic and the well-known film "Blood Diamond," consumers tend to be aware that gemstones come ethically tarnished.
It's quite common for marrying couples to be interested in buying ethical wedding jewelry, perhaps so that no objectionable issues mar the occasion. The jewelry industry needs to respond to these trends, or established brands will see new entrants that do manage these ethical concerns gain market share.
Controlling a global supply chain that covers multiple industries – such as mining, pearl fishing, and heavy metal refining – is not a task to be undertaken lightly. The brands that are best responding to the eco and ethical challenges of their industry are ones that manage their communications with the supply chain particularly well. Technology has a part to play in this, but it's particularly important to overcome language barriers and communicate needs effectively.
The eco and ethical movement in the jewelry industry is a significant and lasting one. Brands that don't respond effectively are going to be left behind, so it may remain a disruptive force in this sector for some time.
Related posts