So what do we mean by quality?
When we talk about quality, we're going beyond how accurate and appropriate a translation, interpretation, or other language-related service is.
We want to make sure that the message you're trying to communicate comes across loud and clear, with the right tone and terminology, and is culturally sensitive to the target audience. Even the slightest mistake can have serious consequences. That's why we've developed a rigorous quality assurance process.
Accreditations
Our commitment to excellence
We're constantly adding to our list of quality-focused accreditations and memberships.
ISO 9001 – Internationally Recognized Quality Standard
ISO 17100 – Quality Standard Specific to the Provision of Professional Translation Services.
ISO/IEC 27001 – Information Security Management
ISO 18587 – Machine Translation Post-editing Services
ATA – American Translators Association member
ATC – The Association of Translation Companies
Market Research Society (MRS) – Company Partner
British Healthcare Business Intelligence Association (BHBIA) – Corporate Member
Multidimensional Quality Measurement
Meet the gold standard for translation quality
MQM is the current best-in-class industry standard for assessing translation quality for both human and machine translation models. It identifies and categorizes any quality issues within a project and generates solutions for translation risk management. Plus, it's completely customizable and adaptable to meet the specific needs of your project.
Quality Management Systems
We take quality seriously. That's why we've implemented a Quality Management System that includes:
Clearly defined and documented objectives
Feedback from all stakeholders shall be analyzed and used to enhance our quality process
Effective communication regarding quality processes
Internal audits: TDL has 3 internal auditors to ensure we comply with our high standards
Monthly Opportunity and Risk report to inform Continuous Improvement initiatives
How we select our linguists
Choosing the best of the best
Our linguists are carefully hand-picked based on thorough criteria to ensure your translations are accurate, appropriate, and culturally sensitive to your target audience.
In-country, native speakers of the target language
Graduate degree in translation or relevant industry (such as pharma, medical devices, etc.)
Minimum of 3 years' translation experience
Industry specialization with e.g. in-depth knowledge of therapeutic area, related documents, and country regulations
Additional requirements as applicable: background checks, vendor location, etc.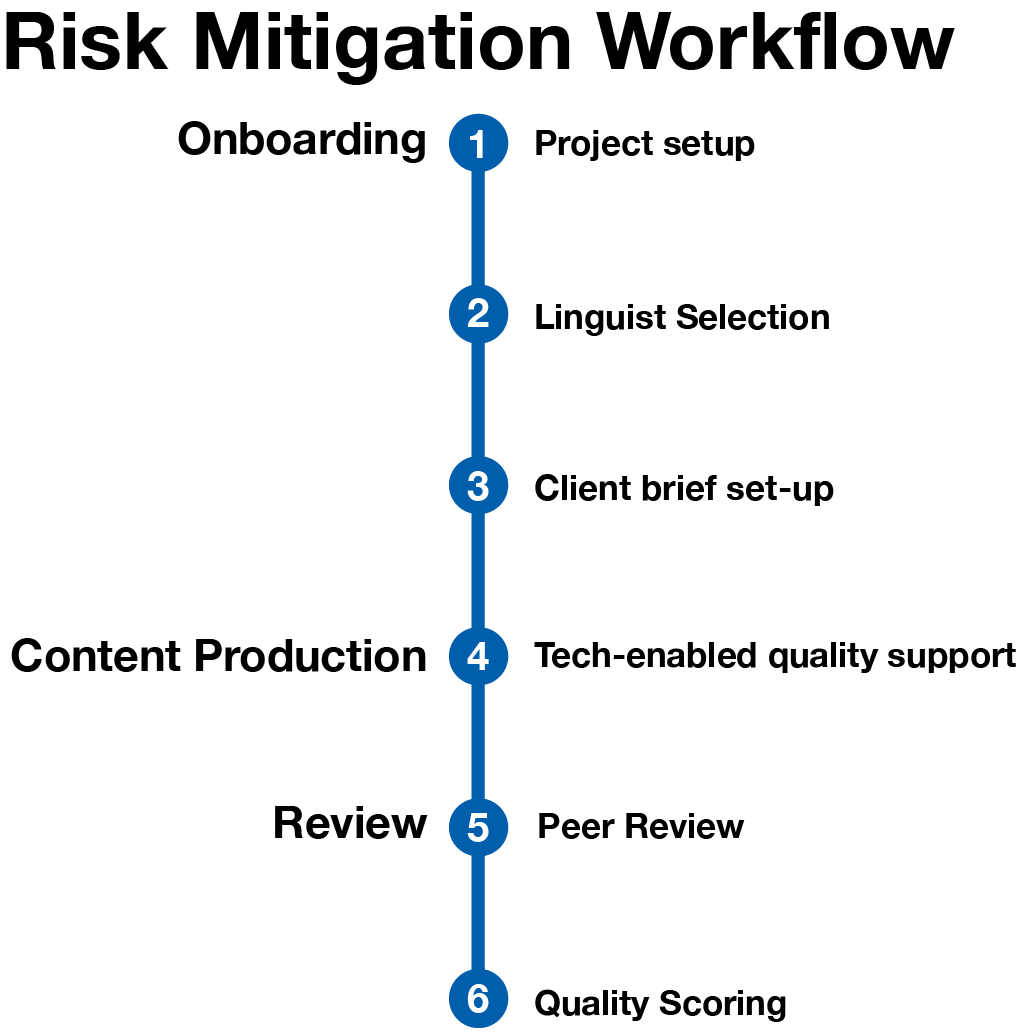 How we manage your content
Our end-to-end approach to assure quality
We've developed a 6-step quality management workflow for your smooth and immersive onboarding with streamlined content production, and a thorough review stage.
Onboarding
Step 1. Project Setup – We ensure information about the client, target market, audience, and what the content aims to do is clear and available to linguists and project managers.
Step 2. Linguist Selection – A stringent selection and onboarding process for each translation assignment from our vetted, experienced linguists within the target market and audience.
Step 3. Client Brief Setup  – We ensure glossaries, term bases, style guides, briefing information, reference files, and images are studied and fully accessible throughout the entire translation process via our proprietary tech.
Content Production
Step 4. Tech-enabled quality support – Our proprietary language tech platform, STREAM, prompts every workflow task to confirm and evaluate the accuracy of the previous task with multiple inbuilt checks to monitor consistency with terminology.
Review
Step 5. Peer Review – All our professional linguists are reviewed and checked by a qualified reviser and an added project management technical check to ensure completeness against both the client and job-specific brief.
Step 6. Quality Scoring – Every project is graded on a quality scorecard for accuracy, tone and register, fluency, presentation, and overall comments. This scorecard is then shared with the linguists and the project manager, and the data is stored in STREAM. These insights are fed back to project managers for continuous improvement.
Understand what we've built with our case studies.
We seek meaningful, long-term relationships with our clients in order to create truly transformative results.
Get a Quote