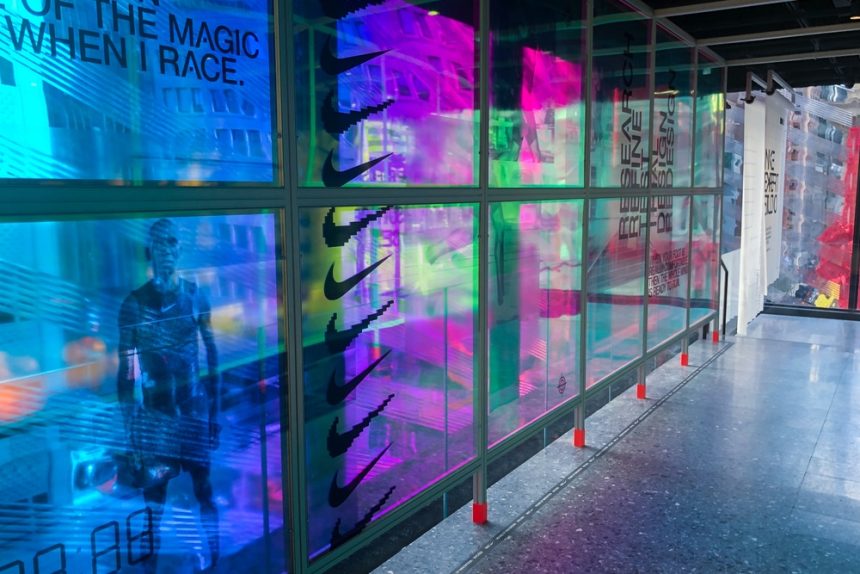 ---
Splashing cash on flagship brand experiences isn't a new move for modern retailers. But Nike's new, highly customized shopping experience is a good example of a trend that takes personalization to whole new levels.
Nike's massive Fifth Avenue store in New York offers customers all the immersive branding you'd expect from a flagship. But this iconic Nike NYC, House of Innovation 000 location takes personalized brand experiences to the next level.
For example, clients can customize their shoes using the help of dedicated onsite personal shoppers. The sportswear brand has used technology to unite online and offline stores to provide customers with a seamless retail experience. It's also offering an unprecedented level of customizable services in-store, including dyeing, printing, embroidery, and lasering.
It's an approach that's already been tried in Japan, although on a much smaller floor space. Nike's New York flagship personalization experience has taken this idea and blown it up on a much larger scale.
It's not unusual for brands to invest in special extras for their most loyal customers. Here, Nike is catering to Nike Plus members, who enjoy exclusive access and extra services. The sportswear and fashion industries are currently offering an unprecedented level of intersection thanks to runway and social trends like athleisure.
Nike's flagship store is trying in part to cash in on this trend of customizable shoes, reclaiming some of the territory lost to major rival Adidas, who have recently undertaken a number of fashion collaborations.
RELATED: How the Wellness Phenomenon is Influencing Fashion Globally
Customization has been a big trend in fashion and other industries for some time now. Nike's store not only reflects this reality—it takes it to the extreme. Smaller sportswear brands may not be able to venture into this kind of trend, as it means high investment in the brand experience and a huge commitment to evolving their brand positioning.
Technology that enhances the experience
Technology plays a large part in Nike's new venture, using tech in an integrated way throughout the customer experience. Customers who have the Nike app can use it throughout their in-store experience for everything from scanning barcodes and paying for items, effectively serving themselves.
It's important to note that this high use of technology does not mean there isn't staff on hand. Although customers can proceed to check out via the Nike app, brand representatives are on hand to enhance the experience.
This has changed the role of staff working the floor. The one-to-one shopping consultation on offer means staff must now have more engaged interactions with each customer, which also requires more training.
The next best thing to luxury
Nike is now able to offer a type of service and experience that's usually associated with luxury brands. This includes one-to-one attention from shopping consultants, courier services, and an immersive brand experience.
The difference here is that Nike is doing this on a much larger scale–68,000 square feet, in fact. The only way this can be achieved is through the use of new technology. Customers can completely self-serve in-store buying ready-made items, or demand the highest level of attention from sales associates.
Nike's store is also an experiment in trying to resolve a common retail issue: how to reconcile a customer's online and offline experience. Like major bricks-and-mortar retailer Walmart, Nike uses a proprietary app to tie in regular customers' online and offline activity in order to identify shoppers and serve them more effectively. There's likely to be major growth in this area, with Nike being just the latest brand to emerge in this space.
Walmart's success is about offering flexibility. It recognized that although customers may like to engage online, they don't always have internet access. It also recognized that even though customers shop online, they may still prefer to pay in cash. So Walmart let customers choose to have items delivered to their home or be collected in store.
Nike's in-store experience is similarly flexible. Customers can demand the highest level of attention or completely avoid human contact and shop using their mobile phone in-store.
With retail facing a challenging market, consumers are more and more interested in experiences than owning things. With the looming threat from online commerce, brands are obliged to innovate in order to survive.
Nike has certainly made a bold move to adapt to the new world of retail and capture customers' attention, adopting new technological developments and changing the sportswear sector in one fell swoop.
It's probably luxury brands that have the most to learn from Nike's experiment. Clearly, it is possible to customize the client experience and do it to scale. As AI becomes increasingly sophisticated, more brands will use it to personalize products and services. Nike's made a bold move in New York, but this is probably a sign of the way the retail sector is headed in future.
Written by Demetrius Williams
Demetrius Williams is a Digital Marketing Specialist at Toppan Digital Language and has previous eCommerce experience working with a number of luxury brands in the fashion and beauty industry. He enjoys photography, freelance writing, producing podcasts and binge-watching Netflix.
---
Related posts