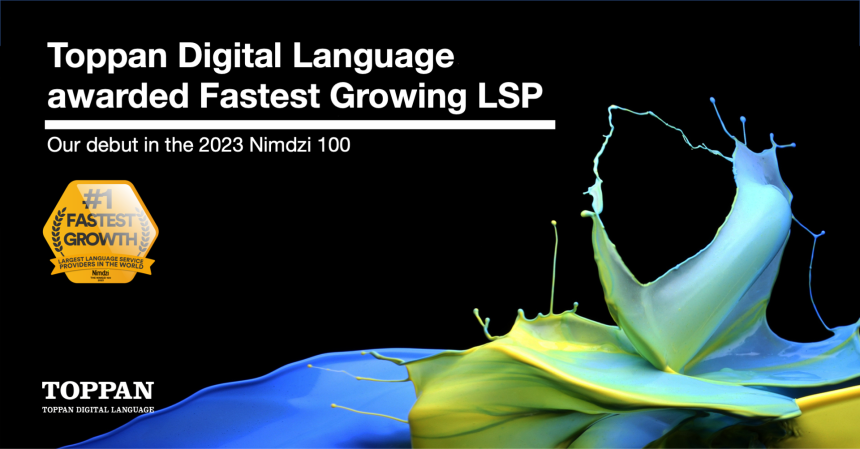 ---
Toppan Digital Language is delighted to announce that it has received the "#1 Fastest Growth" award for 2022 as part of the 2023 Nimdzi review of the top 100 language service providers (LSPs) in the world.
The company was founded in 2021 because it identified a growing gap in the market for innovative, sector-specific language solutions, particularly in the segments of high-risk, business-critical content.
While some larger LSPs focus on more generic services and technologies, and smaller LSPs often lack the ability to serve large enterprises, the strategy of Toppan Digital Language is to combine specialism with scale. Being a subsidiary of Toppan Inc., it has been able to invest and move quickly to execute its strategy within a group of companies that puts customer service at the top of the agenda.
Since its founding, Toppan Digital Language has grown both organically and via acquisition. In August 2021, it acquired GlobaLexicon, a specialist LSP in the market research and insights industry, and in May 2022, it acquired TranslateMedia, a specialist in the consumer and media sectors. The company's approach to M&A is distinctly focused on investing in growth.
In addition, the company has also invested significantly in building the business organically, attracting new talent across technology, quality, operations, and sales.
Having won over 130 new clients last year, today, over a third of its business is from new revenue streams, with the highest growth being achieved in the regulated sectors, working with some of the largest customers in the industry.
The company's momentum in 2023 continues. It now operates from 8 offices across the UK, Europe, the USA, and Asia, and is continuing to grow its employee base of approximately 300 people. The company looks forward to another year of strong growth in its target sectors of market research, consumer and media, life sciences and healthcare, financial and legal services.
The President of Toppan Digital Language, Christophe Djaouani said: "We sincerely want to thank Nimdzi Insights again for the award, and also to all our hardworking and driven employees, whose desire to put the customer first is the key to our success so far."
Related posts